Three baby Ural owls. This was the result of the 30 nesting boxes that SCA and Birdlife Medelpad installed in western Medelpad last autumn. These young have now been ringed and the hope is that they will survive and contribute to an increase in the Ural owl population.
It was last autumn that 20 Great Gray owl platforms and ten Ural owl nesting boxes were installed in SCA's forests in Stöde/Torpshammar as part of the collaborative project between BirdLife Medelpad and SCA Skog. After an abundance of field mice in the autumn, there were great hopes of seeing some young in the spring of 2021.
"Unfortunately, we had a harsh winter, which put a stop to the supply of field mice, which affected the owls, as field mice are their main staple. When ornithologist Per Helttunen and I checked on the breeding, we found only one box with the rear end of a Ural owl sticking out," says Peter Berglund, ornithologist and in charge of the nesting box project at BirdLife Medelpad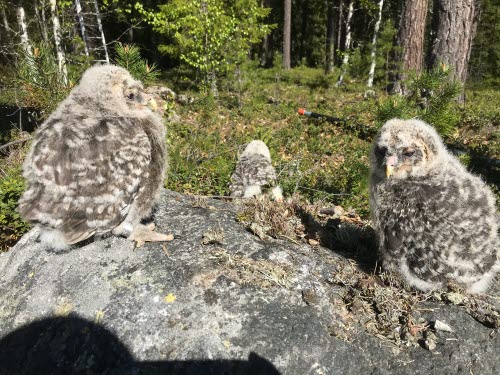 Found only three young
Per informed Peter Nilsson, who has a permit to carry out ringing, but otherwise works at the environmental analysis and wildlife unit at the Västernorrland County Administrative Board. He visited the box and was able to confirm a far advanced Ural owl breeding, with three young. It was time only a few days later for ringing because there was a large risk that the young would jump out of the nest, which they do before they are able to fly.
"They then investigate the terrain, climb on the lower vegetation and are difficult to locate for ringing," says Peter Berglund.
Seven people took part on the day of ringing, of whom some were SCA employees.
"We approached the nest cautiously and looking a little nervously in all directions. The females are usually aggressive when they have young in the nest and for that reason we all wore hardhats and had thick jackets for protection. A Ural owl can fly at 60-70 km/h, which is enough to knock over an adult human!
Peter Nilsson made an attempt with a large net in front of the box to capture and ring the female, but she was already gone.
"When he then climbed up and took the young out of the box, they began to anxiously make a clicking sound with their beaks and that led to the female attacking from various positions around the box. Fortunately, everyone escaped unharmed, apart from me because the female caught me in the back with her talons. But it went well," says Peter Berglund.
After that, the young birds were each fitted with a ring on their leg and put back into the box.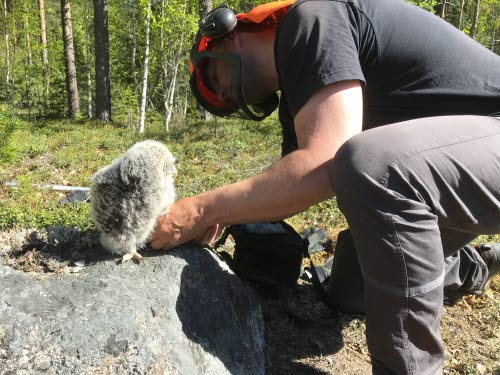 Eat large amounts of field mice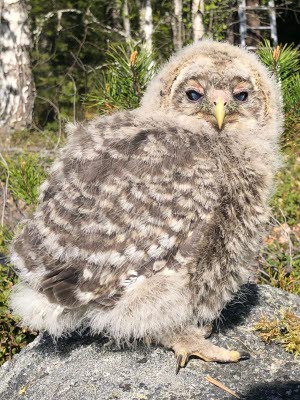 "During the next year, the Ural owl male, which was not around at the time of ringing, the female and the three young, together, will eat as many forest mice as an adult moose cow weighs, approximately 250 kg. provided that they survive," says Peter Berglund. A field mouse weighs about 50 grammes, which means that a Ural owl family captures about 5,000 mice per year! In other words, they are of great benefit to the forest and reduce the number of mice that can cause enormous damage to the forest because they gnaw at newly planted seedlings and the pine trees' annual shoots.
"Ural owls are mainly found in coniferous forest with openings in the form of marsh land, watercourses or clearcut areas. A classic Ural owl forest is an old growth forest with high pine trees, and containing dry, dead and twisted high stumps reminiscent of chimneys. However, since these hollow stumps are unusual in productive forestland, Ural owls have difficulties finding natural nest sites. Instead, boxes are set up to help the owls.
"It is obviously disappointing that our boxes didn't result in more breeding. But it is nonetheless pleasing that we were able to use our forests for this initiative and that we were able to install these nesting boxes with the help of BirdLife Medelpad. Hopefully, there will be more young next year," says Emelie Westin, nature conservation expert at SCA.
The nesting box project will run for five years and BirdLife Medelpad will conduct annual breeding inventories during the spring, which will be reported to SCA and to the Swedish University of Agricultural Sciences' (SLU) Artportalen.
Photo: Anna Cabrajic and Daniel Yring
Published 6/29/2021